Home
Product Details
A Family of Innovation
Buy Now
Contact Us
Guiding Principle
The Barman Family has been developing innovative dental products for three generations with one guiding principle: to improve products by engineering them according to patients' behavior. The results are dental products that are easier to use and much more effective than conventional products. Dr. Barman's brand products are in demand across the globe and are available for sale on every continent.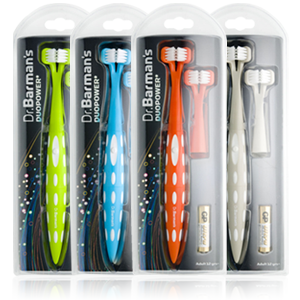 Dr. Barman's Duopower Sonic Toothbrush
Available in four colors.
Dr. Barman's Duopower Sonic Toothbrush combines two distinctive brush heads and powerful sonic technology to create a super sonic brush that sets new standards for teeth cleaning.
Each package contains one Duopower Sonic Toothbrush, one replacement head and one AAA battery.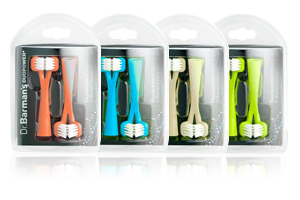 Replacement Heads Available in 2 Pack
Sold Separately
A Breakthrough in Oral Healthcare
+ Two premium brushes have been combined to form one super sonic brush proven more effective than ordinary brushes

+ ADA recommended, 45 degree angular bristles hug the teeth and clean more of the surface of the tooth and the gumline at the same time - triple surface coverage!

+ Ultra-quiet sonic technology breaks up plaque and bacteria at a rate of 20,000 vibrations per minute for cleaner teeth and fresher breath.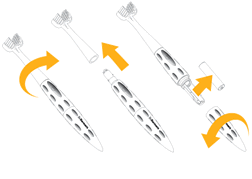 + Designed with a light-weight,slender design and easy to use for people of all ages and agility.

+ Cordless freedom, travel convenience and less counter clutter.

+ Affordable so everyone can have healthier teeth and a brighter smile

+ It looks really cool and makes your teeth feel great.

+ Available in four bright colors to match any personality.
True innovation challenges existing thought.


Crosses barriers.

Breaks rules.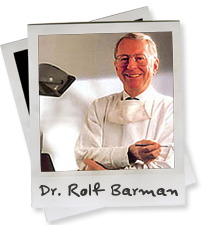 Dental Innovation: Our Father's Legacy
The principle engineer of the unique brush head designs for Dr. Barman's toothbrushes was Dr. Rolf Barman (featured above) from 40+ years' experience in dental practice. He invented the first ever double-ended, dental triangular woodstick. His company Sanodent was accuired by Oral B and later sold to Jordan. He received mulitple awards for his Superbrush, the predecesor to the sonic Duopower version, including recognition by the International Association for Pediatric Dentists.
His father, Dr. Otto Barman, was managing director of the municipal dental clinics for children and youth in Bergen, Norway. He was a pioneer in preventive measures for children's teeth, and introduced fluoride rinsing and brushing of teeth in schools. His mother and aunt were school dental officers.
A Vision for the Future
Presently, two of Rolf's children are dentists carrying on the Barman tradition of dental innovation. The Superbrush has been re-engineered and coupled with sonic technology to create the Duopower Sonic Toothbrush - a true mastery of the family legacy.
Learn more about Dr. Barman's at www.dentaco.no
For More Information
Call Customer Service: 1-843-849-3706 Fax: 1-843-849-3713
or email info@drbarmans.com